Blogs edited and submitted by Chiho Kamioka
JOI Support staff and manager.
Mutual train line operations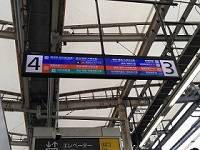 Rail transport in Japan
There are a very large number of train companies in Japan. The rail system in Japan was privatized in 1987 and the Japan Railways (JR Group) was established as a result.
There are 6 regional JR railway companies, JR Hokkaido, JR East, JR Central, JR West, JR Shikoku, and JR Kyushu, and also a freight railway company. And then there are many private rail companies that run mainly in the urban areas especially in the Kanto and Kansai areas.
In this blog for Japanese learners, Yanaka sensei reads the blog herself. Listen to Yanaka sensei read the blog in fluent Japanese and practice your listening. Listening to Japanese is a great way to prepare for the JLPT tests that are due in summer.
相互直通運転
Mutual train line operations

By YANAKA Izumi
 昨年の11月30日に神奈川県の相模鉄道線(相鉄線)とJR東日本の相互直通運転が始まりました。それまでは東京都心へ行くとき、横浜駅や大和駅、海老名駅で乗り換えが必要でした。それが直通運転によって乗り換えなしで新宿まで行けるようになりました。最長で埼玉県の川越まで一本で行くことができます。
 乗り換えがないのはとても楽です。次の電車の時間を気にして急ぐ必要もないですし、乗り換える人の波にもまれることもありません。その一方で不便な点もあります。最も不便な点は何といっても電車の遅延が増えたことです。走る距離が長くなったことで、事故やトラブルの発生も増えます。遠く埼玉で起きた事故の影響で電車に遅れが発生したというメールを見ると、直通運転もいいところばかりではないと感じます。
 相互直通運転はすでにいろいろな鉄道会社で行われています。その結果、東京周辺の電車の路線図は非常に複雑なものになりました。うっかり、行き先を間違えて乗ってしまうと、とんでもなく遠くの知らない場所へ行ってしまうこともあり得ます。みなさんも、電車に乗るときは電車の行き先とその電車が自分の降りたい駅で止まるかどうか十分確認してから乗ってくださいね。
To listen to this blog, please watch our Youtube video.
相互直通運転(そうごちょくつううんてん)
 昨年(さくねん)の11月(がつ)30日(にち)に神奈川県(かながわけん)の相模(さがみ)鉄道線(てつどうせん)(相鉄線(そうてつせん))とJR東日本(ひがしにほん)の相互直通運転(そうごちょくつううんてん)が始(はじ)まりました。それまでは東京都心(とうきょうとしん)へ行(い)くとき、横浜駅(よこはまえき)や大和駅(やまとえき)、海老名駅(えびなえき)で乗(の)り換(か)えが必要(ひつよう)でした。それが直通運転(ちょくつううんてん)によって乗(の)り換(か)えなしで新宿(しんじゅく)まで行(い)けるようになりました。最長(さいちょう)で埼玉県(さいたまけん)の川越(かわごえ)まで一本(いっぽん)で行(い)くことができます。
 乗(の)り換(か)えがないのはとても楽(らく)です。次(つぎ)の電車(でんしゃ)の時間(じかん)を気(き)にして急(いそ)ぐ必要(ひつよう)もないですし、乗(の)り換(か)える人(ひと)の波(なみ)にもまれることもありません。その一方(いっぽう)で不便(ふべん)な点(てん)もあります。最(もっと)も不便(ふべん)な点(てん)は何(なん)といっても電車(でんしゃ)の遅延(ちえん)が増(ふ)えたことです。走(はし)る距離(きょり)が長(なが)くなったことで、事故(じこ)やトラブルの発生(はっせい)も増(ふ)えます。遠(とお)く埼玉(さいたま)で起(お)きた事故(じこ)の影響(えいきょう)で電車(でんしゃ)に遅(おく)れが発生(はっせい)したというメールを見(み)ると、直通運転(ちょくつううんてん)もいいところばかりではないと感(かん)じます。
 相互直通運転(そうごちょくつううんてん)はすでにいろいろな鉄道会社(てつどうがいしゃ)で行(おこな)われています。その結果(けっか)、東京(とうきょう)周辺(しゅうへん)の電車(でんしゃ)の路線図(ろせんず)は非常(ひじょう)に複雑(ふくざつ)なものになりました。うっかり、行(い)き先(さき)を間違(まちが)えて乗(の)ってしまうと、とんでもなく遠(とお)くの知(し)らない場所(ばしょ)へ行(い)ってしまうこともあり得(え)ます。みなさんも、電車(でんしゃ)に乗(の)るときは電車(でんしゃ)の行(い)き先(さき)とその電車(でんしゃ)が自分(じぶん)の降(お)りたい駅(えき)で止(と)まるかどうか十分(じゅうぶん)確認(かくにん)してから乗(の)ってくださいね。
Mutual train line operations
The Kanagawa prefecture Sagami railway lines and the JR East Japan rail lines have started a mutual line operation from November 30th 2019. Until now, if you wanted to go to the Tokyo city center, you would have to change trains at either Yokohama station or Yamato station or Ebina station. But now, thanks to the mutual line operation service, you can go directly to Shinjuku station without needing to change trains. The longest route you can take directly is to Saitama prefecture's Kawagoe station.
It is so easy without transfers. You don't have to hurry to make it to the next train time, and you don't have to be jostled by the crowds when changing trains. But on the other hand, there are some inconvenient things about it too. The most inconvenient thing is that the number of delays has increased. Since the distances that are traveled are longer, the instances of accidents and incidents have increased too. When you see an email notification that states that an accident that happened in far away Saitama prefecture has affected the service and caused train delays, you get to think that a direct service does not cause only good things.
There are many train companies that do various mutual operations. As a result, the route maps for the train services around the Tokyo city area are extremely complicated. If you carelessly ride in the wrong direction, you can easily end up in a completely unexpected and far, unknown place. So when you get on a train, please make sure to be certain of the destination and the station that you want to get off at before you ride the train.
相互直通運転(そうごちょくつううんてん) running on each other's tracks; mutual line operation
乗(の)り換(か)え change trains
(電車(でんしゃ))一本(いっぽん)で directly just by the train (without any transfers)
人(ひと)の波(なみ)  a surging crowd
もまれる be jostled
遅延(ちえん) delay
路線図(ろせんず) route map
うっかり carelessly;
とんでもない completely unexpected

Hajimemashite ! My name is Izumi YANAKA.
Through my work as a System Engineer, I have had the experience of teaming up with foreign members of a team. After seeing the difficulties the team members went through with communication and cultural differences, I got to thinking, "If only there was something I could do to help !" Which was what led me to become a Japanese teacher.
How do you find studying Japanese ? Is it difficult ? Do you find it trying ? At the beginning, easy phrases will do, just think of what you want to say and give it a go. For example, let's talk about your favorite things. I like playing tennis, traveling, and gardening. What do you like to do ?
What's the best phrase to say in this situation ? Is this grammar usage correct ?
If you have questions like these on your mind, I want to answer them all one by one. And in this way, without even realizing it, your Japanese will come to improve.
Once you are able to speak, it gets to be fun. It's not difficult, and not trying at all ! I will help you widen your Japanese speaking world. Let's enjoy learning Japanese together.
Last modified on