What do you eat to cool you down in summer ? Is it good for your body ?This blog gives you an insight into what foods Japanese people eat during each season and why.Learn Japanese for free with this Japanese teacher's blog and listen to the Japanese by watching the YouTube video included.
旬 
Japanese seasonal food

By SAKUDE Emi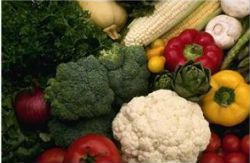 日本には春、夏、秋、冬と季節があります。そして、それぞれに季節においしい食材があります。それを旬といいます。旬の食材は、他の季節よりおいしく、安く買えます。そして、栄養価はなんと2倍以上も高く消費者にとってはうれしい時期です。また、日本では「初物を食べると75日寿命が延びる」と言われ、よいものとされています。
なぜ旬のものがおいしいかというと、体がその季節になると必要とするものだからだそうです。例えば、暑い夏だったら、体を冷やしたり、食欲を増進するものが旬ですし、寒い冬だったら、体を温める根菜類が旬です。
6月からの旬は、野菜では、きゅうり、なす、ピーマン、トマトなど、果物では、もも、すいかなどです。魚では、いわし、すずきなどです。
最近は、どの季節のものでもスーパーなどで買うことができるようになりましたが、やっぱり季節のおいしい旬を楽しむのはいいことだと思います。旬のものをみなさんも食べてみてはいかがでしょうか。
To listen to this blog, please watch our Youtube video.
&;
旬(しゅん)
日本(にほん)には春(はる)、夏(なつ)、秋(あき)、冬(ふゆ)と季節(きせつ)があります。そして、それぞれに季節(きせつ)においしい食材(しょくざい)があります。それを旬(しゅん)といいます。旬(しゅん)の食材(しょくざい)は、他(ほか)の季節(きせつ)よりおいしく、安(やす)く買(か)えます。そして、栄養価(えいようか)はなんと2倍(ばい)以上(いじょう)も高(たか)く消費者(しょうひしゃ)にとってはうれしい時期(じき)です。また、日本(にほん)では「初物(はつもの)を食(た)べると75日(にち)寿命(じゅみょう)が延(の)びる」と言(い)われ、よいものとされています。
なぜ旬(しゅん)のものがおいしいかというと、体(からだ)がその季節(きせつ)になると必要(ひつよう)とするものだからだそうです。例(たと)えば、暑(あつ)い夏(なつ)だったら、体(からだ)を冷(ひや)やしたり、食欲(しょくよく)を増進(ぞうしん)するものが旬(しゅん)ですし、寒(さむ)い冬(ふゆ)だったら、体(からだ)を温(あたた)める根菜類(こんさいるい)が旬(しゅん)です。
6月(がつ)からの旬(しゅん)は、野菜(やさい)では、きゅうり、なす、ピーマン、トマトなど、果物(くだもの)では、もも、すいかなどです。魚(さかな)では、いわし、すずきなどです。
最近(さいきん)は、どの季節(きせつ)のものでもスーパーなどで買(か)うことができるようになりましたが、やっぱり季節(きせつ)のおいしい旬(しゅん)を楽(たの)しむのはいいことだと思(おも)います。旬(しゅん)のものをみなさんも食べてみてはいかがでしょうか。
Japanese seasonal food
In Japan, we have the seasons of spring, summer, autumn and winter. And for each season there are various delicious food ingredients. These are called 'shun' or seasonal foods in Japan. Ingredients of these 'shun' are more delicious and can be bought cheaper than in other seasons. Also because the nutritional value is higher by more than double, it is a good period for the consumer. In Japan there is a saying that "you get a new lease on life if you eat the first catch or harvest of the season", so these things are considered to be good.
Why do the 'shun' or seasonal foods taste so delicious ? Apparently its because the body has a need for these foods during that particular season. For example, because its so hot in summer, foods that cool down the body and increase your appetite are the season's 'shun', and during the cold of winter, root vegetables which heat up the body are the season's 'shun'.
The seasonal food in Japan during June are :- for vegetables - cucumbers, egg plant, green peppers, tomatoes etc, in the case of fruits – peaches, water melon etc, for fish – sardines, sea bass etc.
What kind of seasonal foods have you become able to buy at the supermarket ? I think that enjoying the seasonal and delicious 'shun' is definitely a good thing. Why don't you try eating these seasonal foods for yourself ?
旬(しゅん) Seasonal food
栄養価(えいようか) nutritional value, food value
寿命(じゅみょう)が延(の)びる take (on) [win] a new [fresh] lease of life
~そうです It's said that, I hear that, apparently
~ようになりました to become
~みてはいかがでしょうか? How about try to ~?