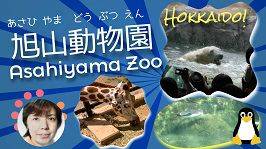 Hokkaido's tourist spots
If you are looking to take photographs on your travels, then one of the most photogenic places to visit in Japan is Hokkaido. The flora is incredible in some places, and depending on the season, there many places well known for blooming flowers or seasonal landscapes.
But in this blog by a Japanese language teacher who lives in Hokkaido, Itaya sensei, she introduces one tourist spot that can be enjoyed all year round.
Read the blog to study new Japanese vocabulary and listen to Itaya sensei read the blog herself and learn how to speak Japanese fluently too.
旭山動物園
Asahiyama Zoo

By ITAYA Sayuri
 私が住んでいる北海道はたくさんの観光地がありますが、今回は日本最北にある「旭山動物園」を皆さんに紹介します。
 「旭山動物園」という名前ですが、この動物園は「旭川市」にあります。人口33万人ほどのこの町にある動物園は1967年に開園しましたが、1996年ごろには来場者が少なくなってしまいました。それを打開すべく1997年から動物の自然な生態が見られる行動展示を実現する施設づくりに着手しました。そのおかげで入園者数はどんどん増え、テレビ番組で取り上げられたこともあり、今では北海道を代表する観光地の一つになり、外国人の観光客も増えました。・・・残念ながら、今は新型コロナのせいですっかり来場者は減っていますが・・・。
 注目すべき施設と動物を少し紹介します。
 まずは「あざらし館」。アザラシが泳ぐ水槽が上から見えるだけでなく、水槽の横から自由に泳ぐアザラシを見ることもでき、さらに「マリンウェイ」という円柱の水槽があり、アザラシ達がそこを通り抜けます。その際にアザラシと目が合うかもしれません。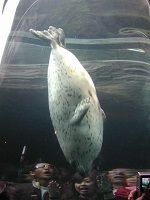 次に「ほっきょくぐま館」。ここにも透明の水槽があり、ダイナミックな白熊のダイビングが見られるかもしれません。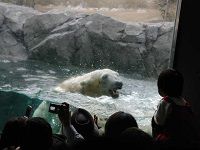 「きりん舎」もおすすめです。ふつうは遠くからキリンを見るだけだと思いますが、ここはキリンを頭の高さから、足下から、など色々な角度から観察できます。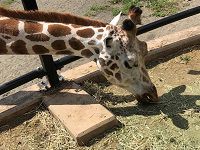 「かば館」では大きなプールで上手に泳ぐカバの姿を見ることができます。
 「ペンギン館」では歩くのがあまり上手ではないペンギンがスイスイと水の中を、まるで空を飛んでいるかのように泳ぐペンギンの姿がカッコいいです。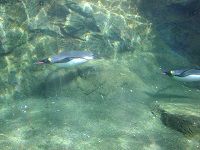 また、毎年雪が降り積もった時期には「ペンギンの散歩」が行われます。ヨチヨチ歩くペンギンはとてもかわいいです。
 他にもたくさんの動物たちがいます。 また、夏休みの時期には1週間ほど「夜の動物園」として午後9時まで開園しているそうです。 動物たちの行動を、ここで見てみませんか?
To listen to this blog, please watch our Youtube video.
旭山(あさひやま)動物園(どうぶつえん)
 私(わたし)が住(す)んでいる北海道(ほっかいどう)はたくさんの観光地(かんこうち)がありますが、今回(こんかい)は日本最北(にほんさいほく)にある「旭山動物園 を皆(みな)さんに紹介(しょうかい)します。
 「旭山動物園」という名前(なまえ)ですが、この動物園は「旭川市(あさひかわし)」にあります。人口(じんこう)33万人(まんにん)ほどのこの町(まち)にある動物園は1967年(ねん)に開園(かいえん)しましたが、1996年ごろには来場者(らいじょうしゃ)が少(すく)なくなってしまいました。それを打開(だかい)すべく1997年から動物の自然(しぜん)な生態(せいたい)が見(み)られる行動(こうどう)展示(てんじ)を実現(じつげん)する施設(しせつ)づくりに着手(ちゃくしゅ)しました。そのおかげで入園者数(すう)はどんどん増(ふ)え、テレビ番組(ばんぐみ)で取(と)り上(あ)げられたこともあり、今(いま)では北海道を代表(だいひょう)する観光地の一(ひと)つになり、外国人(がいこくじん)の観光客(かんこうきゃく)も増(ふ)えました。・・・残念(ざんねん)ながら、今は新型(しんがた)コロナのせいで すっかり来場者は減(へ)っていますが・・・。
 注目(ちゅうもく)すべき施設と動物を少(すこ)し紹介します。
 まずは「あざらし館(かん)」。アザラシが泳(およ)ぐ水槽(すいそう)が上(うえ)から見えるだけでなく、水槽の横(よこ)から自由(じゆう)に泳ぐアザラシを見ることもでき、さらに「マリンウェイ」という円柱(えんちゅう)の水槽があり、アザラシ達(たち)がそこを通(とお)り抜(ぬ)けます。その際(さい)にアザラシと目(め)が合(あ)うかもしれません。
 次(つぎ)に「ほっきょくぐま館」。ここにも透明(とうめい)の水槽があり、ダイナミックな白熊(しろくま)のダイビングが見られるかもしれません。
 「きりん舎(しゃ)」もおすすめです。ふつうは遠(とお)くからキリンを見るだけだと思いますが、ここはキリンを頭(あたま)の高(たか)さから、足下(あしもと)から、など色々(いろいろ)な角度(かくど)から観察(かんさつ)できます。
 「かば館」では大(おお)きなプールで上手(じょうず)に泳ぐカバの姿(すがた)を見ることができます。
 「ペンギン館」では歩(ある)くのがあまり上手ではないペンギンがスイスイと水(みず)の中(なか)を、まるで空(そら)を飛(と)んでいるかのように泳ぐペンギンの姿がカッコいいです。 また、毎年(まいとし)雪(ゆき)が降(ふ)り積(つ)もった時期(じき)には「ペンギンの散歩(さんぽ)」が行われます。ヨチヨチ歩くペンギンはとてもかわいいです。
 他(ほか)にもたくさんの動物たちがいます。 また、夏休(なつやす)みの時期(じき)には1週間(しゅうかん)ほど「夜(よる)の動物園」として午後(ごご)9時まで開園(かいえん)しているそうです。 動物たちの行動を、ここで見てみませんか?
Asahiyama Zoo
There are a lot of tourist spots in the place I live, Hokkaido, and this time, I am going to introduce one of these and it is the northernmost zoo in Japan, and is called Asahiyama Zoo. Although it is called Asahiyama Zoo, this zoo is actually in Asahikawa city.
The zoo was opened in 1967 in this city which has a population of 330,000 but around 1996 the customers to this zoo began to dwindle. In order to turn this around and break the deadlock, in 1997 they started to undertake the building of a facility in which people could see the animals in their natural habitat.
Thanks to this, visitors to the zoo began to increase and it was picked up by TV programs as well, so that now, it is one of Hokkaido's main sightseeing spots and visitors from oversees are increasing too. But unfortunately, due to the Coronavirus the number of visitors has decreased now, however...
I would like to introduce the facilities that you should focus on when you visit. First there is the 'Azarashikan' or Seal House. Here you can see the seals swim around, not only from above but also from the side of the aquarium and there is a cylindrical water tank as well called the Marine Way through which the seals can swim through. When they are doing so, you can see the seals eye to eye.
Next is the Polar Bear House, Here they have a clear tank through which you might be able to watch the dynamic polar bears' dives.
I also recommend the Giraffe House. Usually we are only able to see giraffe from far away, but here you can gaze at them from various angles, immfrom head height all the way down to their legs.
In the Hippo House, there is a large pool in which you can watch the hippos swimming skillfully. In the Penguin House, you can watch the penguins which are not good at walking, but look cool swing gracefully almost as if they are flying through the air.
And then every year during the time when the snow falls and piles up, you can see the 'penguin walk'. The penguins walking with tottering steps is cute to watch.
There are also many other animals. And finally, during the summer holidays they have a Night Zoo for about a week in which the zoo is open until 9pm. Why not come and see the animals actions here?!
最北 【さいほく】 northernmost
来場者 【らいじょうしゃ】 (n) those attending
打開 【だかい】 break in the deadlock
すべく in order to do; for the purpose of doing
生態 【せいたい】 (1) mode of life; ecology; (2) (animal) territory
展示 【てんじ】 exhibition; display
実現 【じつげん】 implementation (e.g. of a system)
施設 【しせつ】 institution; establishment; facility
着手 【ちゃくしゅ】 to start work (on); to undertake
注目 【ちゅうもく】 notice; attention
すべき should do; ought to do
あざらし; アザラシ 《海豹》 true seal (animal)
水槽 【すいそう】 water tank; cistern; (2) fish tank; aquarium
円柱【えんちゅう】 column; shaft; cylinder
ホッキョクグマ 《北極熊》 【ほっきょくぐま】 /白熊 【しろくま; シロクマ】 polar bear
舎 【しゃ】 hut; house
観察 【かんさつ】 observation; survey; watching
スイスイ; すいすい (on-mim) lightly and smoothly (of movements); swiftly; glidingly
よちよち (on-mim) totteringly; with tottering steps; toddling
足下【あしもと】 at one's feet; underfoot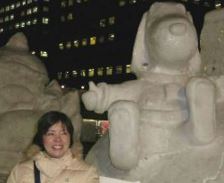 Hajimemashite, everyone. My name is Itaya Sayuri. I live in Sapporo, Hokkaido.
Sapporo is a really liveable city because, although we have a lot of snow in the winter, the summers are much cooler than other areas of Japan. Apart from teaching Japanese, I also hope to let everyone know about Sapporo, its beautiful nature and delicious food.
I play volleyball once or twice a week for my health and play golf on occasion. I also love watching movies.
Do you think the Japanese language is difficult? Well, come and enjoy studying with me in our online Japanese classroom?don't worry about making mistakes and just try to speak up as much as possible. I think this is the secret to success in Japanese. Ganbare!
Last modified on