August 2015 Chat Event Topic & Schedule
Topic: 言い伝え・迷信 - Tales and Superstitions
Date: 2015/08/19 13:00 (Japan Time)
Level: Beginner2, Pre-Intermediate, Intermediate
Seno sensei's remarks:
食べ物や天気、健康のことなどについて、古くから様々な「言い伝え」があります。
中には根拠がない「迷信」のようなものも。
皆さんの国にはどんな言い伝え(迷信)がありますか。
あなたはそれを信じますか。
There are various tales that passed down from old about food, weather and health etc.
Some of them are baseless and rather like superstitions.
In your country, what kind of traditions or superstitions do you have ?
Do you believe any of them ?
Topic: 年を取ったら・・・ - When you are older ...
Date: 2015/08/26 13:00 (Japan Time)
Level: Intermediate, Advanced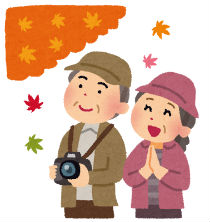 Itaya sensei's remarks:
みなさんは、将来年を取ったら自分がどうなっているか、考えたことはありますか。
何才まで働きたいか、誰と、どこで、暮らしたいか、死ぬまでに何がしたいか、考えてみませんか?
Have you thought about what you will be like in the future when you get old?
What age do you plan to work to ?
Who with and where do you want to live ?
Have you thought over things you would like to do before you die ?
The events are moderated by one of the JOI teachers and are a fun and relaxed way to enjoy learning Japanese online for free with other like-minded Japanese language learners.It's easy to attend one of these events.
Login to the Reservation System.
Click on the Chat Events page to see the topics and the date and time (shown in your own time zone).
Reserve a Chat Event.
When the date and time comes, scroll down to the bottom of the [Go to Classroom] page and click on the Chat Event Room link.